The situation has gone so far, that the parent group must "temporarily dismiss" thousands of people. They will receive salaries even without a job all year round.
Maserati Levante Production Photo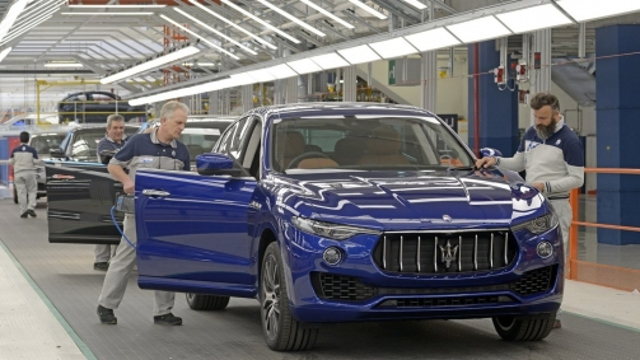 SUV Levante had Maserati back to the glare again. The Italians did everything they could. They gave him a handsome body, under which they were also powered by powerful power units, but unfortunately the expected interest did not come. In 2017, the car sold only 45,000 cars worldwide, with the SUV being the second registered car, but the owner was almost twice as likely to find it at that time. Moreover, it should be added that these last snowfalls are gone.
This year, the trident falls even further, with several factors behind it. And all are related to the SUV, which can now be definitively stated to have missed a target for some reason. Registration in Europe for the first ten months decreased by 24% to only 3,777, followed by a 14% drop in 4,205 cars sold in the States. Even worse is the situation in China. Detailed results for the third quarter are missing, but overall there are 8,828 cars registered, which is 32.6% less than last year.
The outcome of the world's largest market can, of course, be excused on the one hand by changes in the government's approach to imported cars. They were burdened with high taxes, but China said in April that the June rates would fall. A number of automakers, including Maserati, have decided to dampen some of their supplies, and will only start running when prices can be lowered. The Italians expected that in the third quarter the pace of sales not only compares, but that, in addition to concluding losses in previous months, their sales are even higher. None of this happened.
For example, 859 cars delivered in October represent a year-on-year fall of 34.4%. Levante is not behind him, but even in his case, registration is negligible. Moreover, since the outlook for the future is not very pink, there has been what has been done several times in the past – to limit production. This time, however, it is really strenuous.
FCA's parent company has decided that the plant at Mirafiori, where Levante is being produced, will significantly reduce traffic and use the situation to rebuild it. What is remarkable is that laborers working here do not separate or send them for a longer holiday but "temporarily dismiss them". This is indeed an unusual institute that will affect 3,225 people – from 1 January 2019, 2 445 workers will remain at home and from 800 on 4 March. "Temporary release" will take until 31 December 2019 depending on the circumstances and all affected employees will receive a reduced salary for the time – part of it will be paid by Fiat Chrysler Automobiles, part of the Italian government.
We do not remember anything like this at least from the automotive world. Different state-supported programs that keep jobs at a time when the big employer is experiencing difficulties are nothing unusual. But this solution is really generous, we would say Italian generous. The 14,000 employees of the GM group waiting to be released might be able to tell.
What is next with Maserati is a big question at this moment. There is no major new model, and if at this moment customers do not engage in a relatively young portfolio, headed by a modern SUV that people buy today as a running belt, we are afraid that saving this brand will be an almost superhuman task.
Maserati Levante Links
Maserati Levante Wiki Page
Maserati Levante Instagram Page
More Maserati's presumptuous salvation is becoming more and more mischievous, and SUV buyers do not want to buy Levante Videos